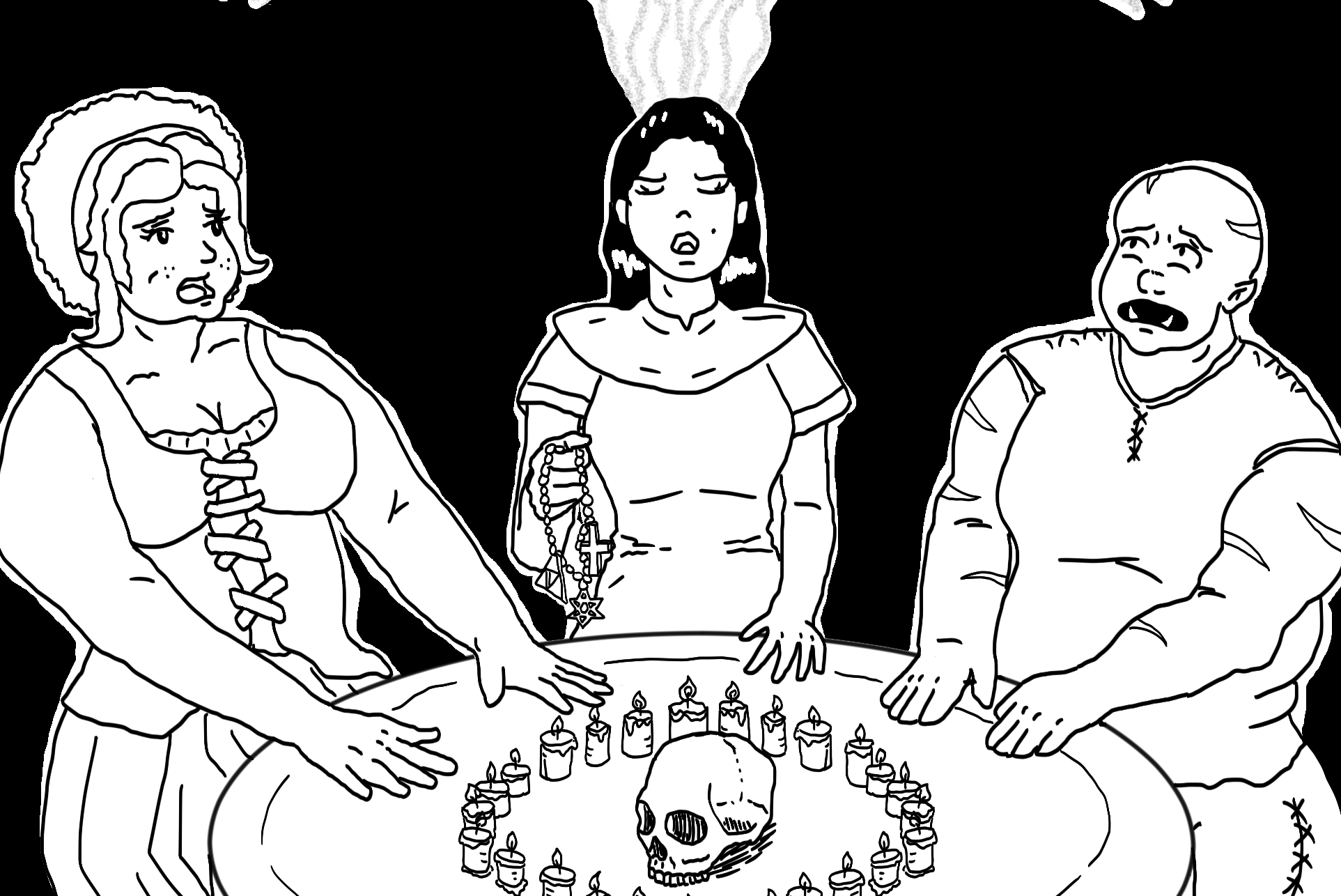 The Hell House Beckons
A downloadable roleplaying game
The ultimate haunted house adventure and toolkit!
"In the middle of a barren dustbowl is a manor. Tall and grey, it juts out of the infertile earth like a tombstone, marking the grave of hundreds. This manor is a place of evil. A place where tortured ghosts stalk the halls, and beneath its floorboards are the remnants of atrocities committed in the name of the Devil.

It is a place from Hell, and it must be cleansed"
The Hell House Beckons provides a tense and haunting adventure for d20-based roleplaying games, as well as all the random tables and tools for Game Masters to make their own haunted houses. It's inspired by films like The Frighteners, Hausu, The Legend of Hell House, The Conjuring, Insidious, and countless others.
Just like those films, it's a decidedly mature book. The Hell House Beckons contains blood, some nudity, and horrific themes. 18+ purchases only, please.
Reviews:
"It's obvious that Kiel put a great deal of effort into this adventure. I admire his ambition to change how ghost like creatures (ghosts, spectres, etc) are used in D20 RPGs. He created some good tools to do exactly that."
-David Rollins, Searching For Magic
"Imagery that's not only terrifying, but fair. The adventure doesn't pull any punches, but unlike most adventures from 1984 to the turn of the century, there are no bullshit gotchas. This adventure isn't on rails, the characters can approach it however they want. There's a whole page devoted to talking about the perspective and attitude to take when running this adventure. I think that's awesome."
-Courtney Campbell, Hack & Slash
"Spookycute"
-Zak S, Playing D&D With Porn Stars
"...it is full of the sorts of design choices actual publishers should be making. Here is a cheat sheet, so you don't have to make your own one like a dope. Here is some advice on how to run this whole thing. Here is a god damn overview of the adventure. This isn't rocket science, but based on the adventures people publish you would think it was."
-Ramanan S, Save VS Total Party Kill
Features:
Procedurally generated content ensures the adventure is different every time you play it.
Over 16 random tables of items, events, and oddities to fill your haunted house with.
4 ready to play NPCs with stats and character traits.
17 unique ghosts and monsters that put the usual clichéd banshees and poltergeists to shame.
Over 50 rooms of spine-tingling terror to explore.
30 custom illustrations.
System and level agnostic rules that are compatible with most d20-based roleplaying games.
Written, Designed, and Illustrated by Kiel Chenier from Dungeons & Donuts.
Purchase
In order to download this roleplaying game you must purchase it at or above the minimum price of $9.99 USD. You will get access to the following files:
The Hell House Beckons PDF
26 MB
The Hell House Beckons EXPANDED PDF - print
24 MB
Comments
Log in with itch.io to leave a comment.
What's new in the expanded version?
The expanded version is the print version that was (previously) exclusive to Lulu.com.
It contains 14 new ghosts/monsters complete with stats and illustrations, as well as blank versions of the three maps.
More details and screenshots are available HERE!